Guns & Ammo

Feature Listing

A & P Pawn - Surplus
307 E. Beale
Kingman, Arizona 86401
(928) 753-3182

Bank Street Guns
4395 N. Bank Street, Unit G
Kingman, AZ 86409
(928) 692-4867

Big 5 Sporting Goods
3320 N Stockton Hill Road, # F
Kingman, Arizona 86409
(928) 692-4944

Fully Loaded


2916 Stockton Hill Rd


Kingman, Arizona 86401
(928) 753-5299

On Target Enterprise
2747 Ashfork Avenue
Kingman, Arizona 86401
(928) 753-4314

Pioneer Gun Sales
3490 East Andy Devine Avenue
Kingman, Arizona 86409
(928) 681-3166

Pawn World
201 E Beale Street
Kingman, Arizona 86401
(928) 753-3700

Pawn World
1822 E Northern Avenue
Kingman, Arizona 86409
(928) 692-7300

S.H.O.T.S.
Hunting, Hardware, Off Road Recovery, Guns & Ammo
3140 Airway
Kingman, Arizona 86409
(928)681-3400

Special Weapons and Things
1916 Lucille Avenue, Suite C
Kingman, Arizona 86401
(928) 718-2715

The Gun Shop
4938 Stockton Hill Road
Kingman, Arizona 86409
(928) 681-4570

Other Listings Of Interest To Gun Owners

Arizona Hunting Information

Arizona Wildlife Outfitters
2644 Broken Arrow
Kingman, Arizona
(928) 681-4867

State of Arizona: Game & Fish Department - Kingman
5325 Stockton Hill Road
Kingman, Arizona 86409
(928) 692-7700

BLM Kingman Field Office
2755 Mission Boulevard
Kingman, Arizona 86401
928-718-3700
Seven Mile Hill Range
3155 W Oatman Road
Kingman, Arizona 86413
(928) 753-8038

Spartan Firearm Training & Personal Defense
3680 Northfield Avenue
Kingman, Arizona 86409
(928) 303-9376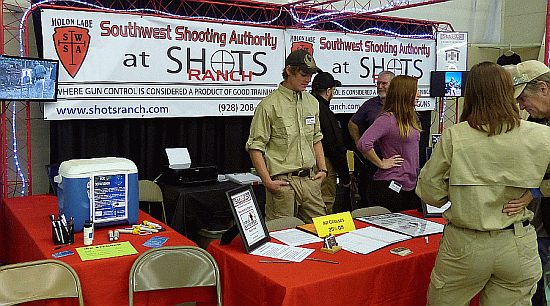 Recreational shooting, self-defense, hunting or precision shooting, you can find it all at SHOTS Ranch!

Hone your skills, increase confidence and improve your accurancy.
Multi-State CCW Training Why is it a Multi-State class? It's not just because of the reciprocity that Arizona enjoys with 30-some other states. This training far exceeds what is required for an AZ permit and is, in fact, recognized by a number of other states for their resident permits and is not just for Arizona residents. Citizens of ANY state can take this class and may be able to get non-resident permits that are recognized in quite a few other states like AZ, CO, FL, MT, WY, UT, IN and more!

Click Here For More Business Categories
Tell A Friend About KingmanArizonaBusinessGuide.com